A full web browser in your pocket! Combined HTML browser and RSS reader. View real web content on almost every Java phone.

Similar apps
.rss {
//border:1px solid
//border-color:#FC9 #630 #330 #F96
padding:0 2px
font:bold 8px verdana,sans-serif
color:#FFF
background:#F60
//text-decoration:none
}
PocketWeb - a real web browser in your pocket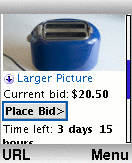 Check your online auctions on the go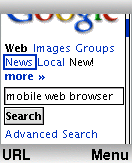 Lookup anything, using search engines


Read the latest news (example: NY-Times RSS feed)
<!--img src=http://tlogic.de/pocketweb/pocketweb-all_transparent_klein.png
alt="PocketWeb logo" /><br-->Explore the real internet wherever you go! PocketWeb brings the World Wide Web right to your mobile phone. This tiny web browser supports:


HTML text


Images (gif, jpg, and more)


News feeds (RSS)


HTML Forms


Cookies


Basic authentication


Bookmarks


Access your PC bookmarks using the SmartBookmarks technology


Unicode, i.e. supports Cyrillic, Japanese, Greek, ...


Save/Load pages


Remembers previous form entries


Browsing history
New in version 3.0 (download the MIDP2 file)


Full-screen rendering

Download images to phone(Menu > Extras > Download Image

Download multi media files (jad, jar, mp3, mid, mpg, pdf)
PocketWeb`s rich options include: Configure font size, turn off images, adjust image color resolution, edit bookmarks, turn off cookies, view or delete cookies, adjust cache size, and much more.

PocketWeb saves you connection fees
PocketWeb minimizes data traffic. Only data that can be displayed on your phone is really loaded: images are scaled to your device`s screen size before downloading. HTML code is optimized and compressed before downloading, resulting in up to 70% smaller file sizes. Moreover, pages are downloaded incrementally in smaller pieces, so you can decide after the first piece whether you like to load the rest.
These features are realized using a proxy server which preprocesses all content before sending it to the phone. This way, connection fees are much lower compared to other stand-alone WAP, HTML, or RSS readers.
This product may not work correctly or not work at all on some older or less powerful devices with low heap memory. A list of known incompatible devices can be found in the support area on www.tlogic.de .

Version info: Users having an unlimited mobile data plan might want to check out News TGo, the free ad-supported full version of PocketWeb. News TGo does not require an unlock key.
NOTE:



Read the Terms of Usage before downloading.


Please test the program before buying a registration key in order to ensure compatibility with your device. You can get your free trial key at www.tlogic.de. The trial key is valid for 10 days or 50 page views, whichever is exceeded earlier.


For a full registration key, please visit www.tlogic.de . You can obtain a license for 3, 6, or 12 months.
The described software has nothing to do with the revolutionary PDA-Webbrowser of the same name, developed 1994 by TECO, University of Karlsruhe, Germany.
User Reviews
Average Rating

(Based on 0 review)

Have you tried this app?

Rate this now
No reviews so far, be the first to rate